Many people want to know about this topic that How much salary will the government cut for a year? As you know that COVID-19 is very dangerous menstruation. And the entire world is suffering from this virus. Our country needs to contribute to fighting with CoronaVirus. This money will be used for the development of humanity. So here, I am going to share some information about this topic. So you should read this article till the end. It will be helpful for you.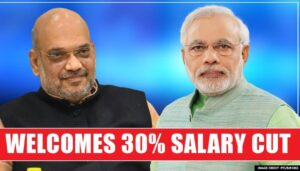 Due to an increase in the number of coronavirus patients, the government has decided to cut 30 Percent salary in India. This decision was taken by the government on April 5, 2020, which is imposed to amend salaries of ministers by 30 percent for one year. One more decision has been imposed in which the suspension of the MPLAD fund of MPs for improving the condition of COVID-19.
This 30 percent decrease in salary for one year is not only imposed on the ministers but also to the president and prime minister due to coronavirus.
Cabinet Reduces Salary 30 Percent:
Due to the increase in the quantity of the coronavirus patients, the cabinet has decided to reduce the pensions of members of parliament by 30 percent for one year. The cabinet has also decided on the suspension of MPLAD (members of parliament local area development) scheme fund during 2020-21 and 2021-22. The president, vice president, governors of states should pay cut as a social responsibility, this money will be the consolidated fund of India. Our prime minister Mr. Narendra Modi decided to prepare a plan and act accordingly for COVID-19. 30 percent pay cut in India, this act was passed to decrease the patients of coronavirus and to treat the patients of India.
BREAKING: 30% salary cut for all Members of Parliament for one year. Reduces all allowances and pension w.e.f April 1, 2020. Ordinance passed by Govt. #Covid19

— Shiv Aroor (@ShivAroor) April 6, 2020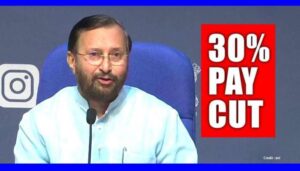 PM Care Fund:
Our prime minister Mr. Narendra Modi has started a fund for reducing the coronavirus named PM care fund. Various celebrities have contributed to this well-named PM care fund such as Akshay Kumar contributed 25 cr. Rupees to this fund, Karthik Aryan has contributed 1 cr. Rupees and various other celebrities have contributed to this fund.
Not even the celebrities but also various colleges, institutions, and the teachers also contributed their best for the PM care fund. In UP various government teachers have also contributed to the PM fund by giving some of their salaries for the fund.
This PM care fund has started with a noble cause to support the coronavirus patients economically. There were also fake ID's are available over the internet so be aware before providing the fund. It is not necessary that the PM care fund only receive big amount but also it can accept a small amount too.
Modes of Payment For PM Care Fund:
The modes of payment available on the website pmindia.gov.in are debit and credit cards, internet banking, UPI such as Paytm, PhonePe, Google pay, amazon pay and so on, and RTGS and NEFT transfers. If you have any of the transaction more then you can also contribute in the PM Care Fund. This time we need to stand with good strength.
Conclusion:
As we discussed above how much salary the government will cut for a year, the government is reducing 30 percent of the salary of government employees, it's our duty to provide as much amount as we have to the PM care fund, and prove yourself to be the responsible citizen of India. As we know various celebrities are also providing funds to the PM care fund they also perform their duty to be the responsible citizens of India and also the salary of government employees will continue to reduce by 30 percent for one year.
You should also read about: Corona Latest Updates